On the back of beautiful natural environment, the best meeting facilities, and various accommodations, Jeju is the best location for diverse international events and incentive travel.
Strong points of Jeju as the venue for MICE
Hub of Northeast Asia connecting continent and ocean
Convenient transportation such as international airport and seaport
International city requiring NO-VISA, NO-Tax for 180 countries
Key spot with multiple functions such as tourism, recreation, convention, medical care, and environmental industry
State-Designated City for International Meetings, Jeju
The 29th in the world, 6th in Asia and 2nd in Korea in the number of international meetings held.
(*Status of 2009 International Meetings Held, UIA)
Jeju Special Self-Governing City and Jeju Convention & Visitors Bureau promise to provide full support from MICE infrastructure information and other information to touring after meetings to everyone who hold MICE in this beautiful island Jeju.
Accessibility and Transportation
International Airport and Seaport
Convenient access through direct/ indirect flights, and entry without visa for those participants of international meetings from 180 countries
Transportation within Jeju
Travel from east coast to west coast of the island takes 1.5 hours by car Diverse modes of transportation such as intra-city buses and inter-city buses, airport limousines, chartered buses, taxies, and rental cars make convenient travel possible.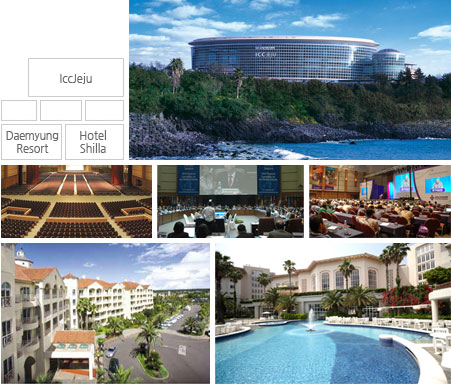 MICE Facilities
There are high quality and various MICE facilities from world-class convention facility ICC JEJU, top-notch hotels, condos, etc.
Accommodation
There are hotels of many grades and rooms, and favorable discount rates in consideration of the budget of participants.
Tour Programs

A slew of tour programs are in offer based on beautiful natural landscape including UNESCO World Natural Heritage.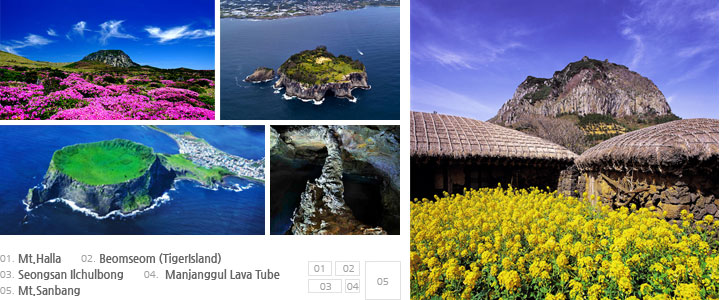 Leisure and Sporting Activities
Leisure and sporting activities can be experienced in some 30 golf courses, through scuba diving, paragliding, and fishing.